From The Plaid Horse:
The new partnership of Hallie Grimes and Inquisitive proved to be a great one, taking home the win in the USHJA National Hunter Derby at the Fiesta Classic two weeks ago. The pair scored two sets of 87's, along with high option bonuses for a total score of 182.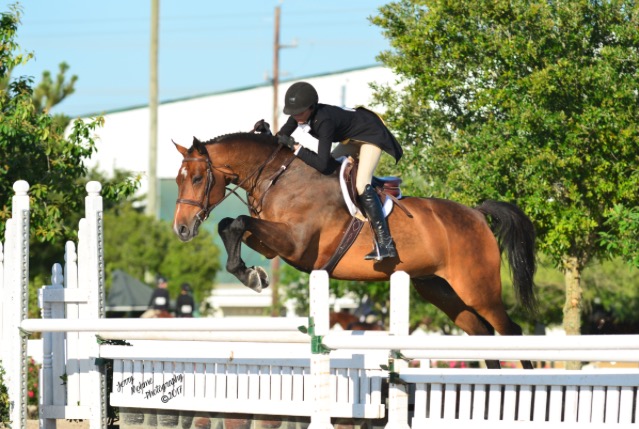 Grimes and "Inky" just recently paired up in February, when Grimes purchased the athletic hunter. "He is such an incredible horse with a huge heart. We have already had some amazing moments together," she said. Grimes went into the ring feeling confident, but also rushed as her jumper class was running concurrently with the Derby. They put in a nice effort, impressing the judge. "It wasn't my best round, but Inky charmed the judge and we received a total score of 91," she explained. The class ran very late on Saturday, and the Handy round had to pushed to Sunday morning. Like many other riders who have been in high pressure situations, Grimes started doing calculations of what scores she needed to win. "A girl who rides well was sitting in first, and I was in second. Approaching the ingate, I took another deep breath and tried to stop overthinking things," she said. Grimes' technique worked, and they laid down another beautiful trip for a total handy score of 91. These scores earned them the win. Texas trainer Berry Porter helped train Grimes for this show. "I can't say enough wonderful things about Berry; he is a great trainer and I love working with him," she said. Look for Grimes and Inky this summer at the east coast shows!
Hallie Grimes and Inquisitive are Victorious in the National Hunter Derby at Fiesta Classic